Roll over image to zoom in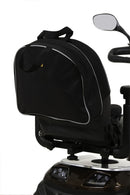 Description
The versatile and practical Splash Crutch/Walking Stick Bag is the perfect companion whether you're using a wheelchair or a scooter to enhance your mobility and convenience.

Key Features:
Spacious Main Compartment: With dimensions of 37 x 43 x 10cm, the main compartment offers a generous 16-liter capacity, designed for everyday use, allowing you to carry your shopping and personal belongings effortlessly.
Secure Holder for Mobility Aids: Two fixed side sleeves provide a convenient holder for your walking stick, cane, or crutches. A Velcro strap at the top of the bag ensures these aids are held securely, minimizing swinging movements while you're on the move.
Additional Front Pocket: The small zipped front pocket adds an extra storage compartment, perfect for keeping essential items within easy reach.
User-Friendly Design: Equipped with easy-grip zip fobs, accessing your belongings is a breeze. Plus, the heavy-duty material provides protection against short showers, ensuring your contents stay dry during unexpected weather.
Enhanced Visibility: The integrated reflective strip enhances your visibility from behind, especially on darker days and during nighttime outings, increasing safety.
Easy Installation: This bag is easy to fit, sliding neatly over the back of your wheelchair or scooter. Adjustable straps keep it securely in place during your journey.
Choose the Splash Crutch/Walking Stick Bag to simplify your daily mobility needs. Whether you're running errands, shopping, or just getting around, this bag has you covered
VAT Exemption

VAT exemption allows chronically sick or disabled people to buy eligible items at 0% VAT. If you are chronically ill or disabled and the product is for your personal use, or if you are buying the product for someone who fits that description, then you do not have to pay VAT on eligible products. If this is the case, you should register for an account, and if the product is eligible the price will reduce to show your VAT exemption. [HMRC Reference: Notice 701/7 (August 2002)] For more information please see our VAT Exemption page
Payment & Security
Your payment information is processed securely. We do not store credit card details nor have access to your credit card information.