Roll over image to zoom in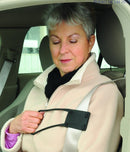 Description
A car seat belt reacher is a simple yet useful tool designed to assist individuals in reaching and pulling their seat belts. This device is especially helpful for those who have mobility issues, such as limited range of motion, arthritis, shoulder pain or other disabilities, which can make it difficult to buckle up in the car.
Using a car seat belt reacher is easy and straightforward. It attaches easily to your existing seat belt with no tools required. To use it, simply hook the end of the tool onto the seat belt and pull it across the body until it clicks into place. The reacher can be used on both the driver and passenger sides of the car and is adjustable to fit most body types and car seat configurations.
Overall, a car seat belt reacher is a valuable tool for anyone who has difficulty reaching and fastening their seat belt. It provides an easy and effective solution to an important safety concern, making it easier for individuals to buckle up and stay safe on the road.
VAT Exemption

VAT exemption allows chronically sick or disabled people to buy eligible items at 0% VAT. If you are chronically ill or disabled and the product is for your personal use, or if you are buying the product for someone who fits that description, then you do not have to pay VAT on eligible products. If this is the case, you should register for an account, and if the product is eligible the price will reduce to show your VAT exemption. [HMRC Reference: Notice 701/7 (August 2002)] For more information please see our VAT Exemption page
Payment & Security
Your payment information is processed securely. We do not store credit card details nor have access to your credit card information.