Roll over image to zoom in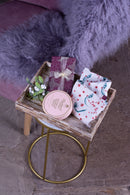 Description
Our Lavender Wheat Warmer, Heated Wheat Bag in Kiji Long Tail Birds can give you many hours of relief from aches and pains, a wide variety of injuries and ailments including headaches, stress and tension.

Why should I buy it?
It's a great heat therapy relief from aches and pain and it moulds to any part of the body that requires relief.
Simply heat for two minutes in the microwave and place on the desired area.
They mould to any part of the body, particularly around the neck, making it easier to target the pain or therapy.

Alluring cherry blossoms and exquisite long-tailed birds were drawn by hand to create the Kiji Design, inspired by Japonisme fashion trends in 19th-century Britain. 

A beautiful collection of traditional and modern designs with timeless appeal.
Available in a variety of fabrics, our Blue Badge Co wheat warmers are designed and handmade in our Bristol based studio.
Can be used as a hot or cold pack, just leave it in the freezer for a few hours.

48cm x 10cm x 2cm
For directions on how to use our Wheat Warmers click here.

For information on using heat therapy for pain relief click here.
Payment & Security
Your payment information is processed securely. We do not store credit card details nor have access to your credit card information.