Roll over image to zoom in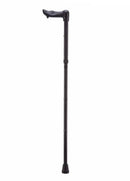 Description
These high-quality, lightweight Folding Walking Sticks - the perfect mobility solution that combines convenience and comfort.

Key Features:
Compact and Portable: These walking sticks easily fold down into four sections, allowing them to be neatly stowed away in a storage bag or even a handbag when not in use.
Arthritis-Friendly Grip: The unique arthritis grip design offers full palm support, making it an excellent choice for individuals with reduced grip capacity due to arthritis. It enables users to distribute their body weight across the entire palm, enhancing comfort while relying on the stick.
Height Adjustable: Each walking stick is height adjustable, with a range from 838mm to 940mm (33-37 inches). This versatility ensures suitability for users of various heights.
Experience the convenience and comfort of our Folding Walking Sticks. Whether you need a walking aid on the go or want a compact solution for everyday use, these folding sticks have you covered.
VAT Exemption

VAT exemption allows chronically sick or disabled people to buy eligible items at 0% VAT. If you are chronically ill or disabled and the product is for your personal use, or if you are buying the product for someone who fits that description, then you do not have to pay VAT on eligible products. If this is the case, you should register for an account, and if the product is eligible the price will reduce to show your VAT exemption. [HMRC Reference: Notice 701/7 (August 2002)] For more information please see our VAT Exemption page
Payment & Security
Your payment information is processed securely. We do not store credit card details nor have access to your credit card information.